This week, I have been assigned to another fantastic artist known to our guild as madonnaontherocks.
Etsy shop:
http://www.dazeoftheweek.etsy.com

He creates beautiful jewelries, and other fantastic creations incorporating recycled materials. Each item is original, unique, and even comes with a name of their own.
It is my pleasure to introduce Adele: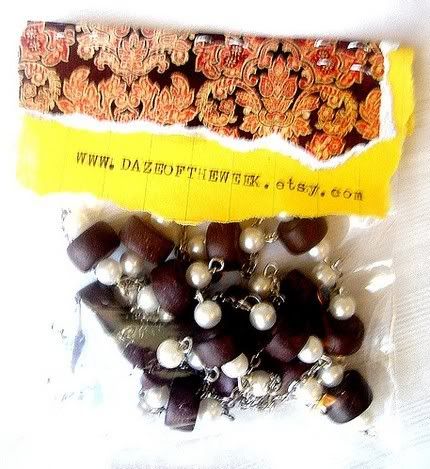 Adele measures in at 60in, and she is very versatile.
She is made up of dark wood beads, vintage acrylic pearls and stainless steal chain. She closes with a lobster claw clasp.
Wear it long, wrap it around your neck a few times, or drape it in your own unique way! This necklace is completely open for interpretation.
He use all recycled materials when packing my items.
Please visit TBGuilds Etsy shop to view shops from other members:
TBGuild Etsy